Discussion Starter
·
#1
·
Well, I guess it was expected, but I was hoping that he'd be getting the 3rd string job anyway.
Ah well.
Pogge loses numbers game

By TERRY KOSHAN -- Toronto Sun

Justin Pogge will not be making his Maple Leafs debut any time soon.

Barring injuries, the top goaltending prospect in the Toronto organization will not get into a pre-season game.

"I think (Mikael) Tellqvist and (Jean-Sebastien) Aubin, it is an important opportunity for them,"

Maple Leafs coach Paul Maurice said.

"Justin is a young man and he has lots of hockey ahead of him. We will leave that door open, but he is going to focus on his first AHL game and he needs to be good there first."

With Tellqvist and Aubin up against each other for the backup role behind Andrew Raycroft, each is expected to get two starts in the Leafs' eight-game pre-season schedule. Raycroft likely will get four starts.
CANOE -- SLAM! Sports - Hockey NHL - Toronto: Pogge loses numbers game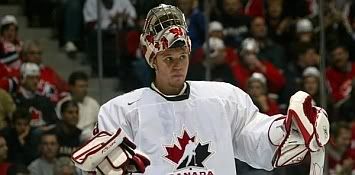 No, that's not Martin Brodeur.:laugh: