Discussion Starter
•
#41
•
Aug 18: BISONS ADD D-MAN FROM NIPAWIN


The Bisons are going to play their first exhibition game of the season in just three days. However, since school doesn't even start until they return from the overseas tour. So there is no roster page, nor an official team announcement of recruits. But other sources confirm one more blueliner.
Carter Doerksen
-
Nipawin Hawks (SJHL) - D
Whenever a Saskatchewanite moves to Manitoba the average IQ of both places decreases. Hopefully this young man's desire to improve his life by leaving behind moonshine, banjo music, and possum shanks in order to have electricity, indoor plumbing, and footwear in summer will show that he is ready for this step up the evolutionary ladder. If he marries a local girl who can civilize him we may see a young man really turn his life around.
Doerksen was the captain of the Hawks, winners of the SJHL championship. He does not run up the offensive numbers, which suits me just fine. The Bisons need good-in-their-own end defencemen, and hopefully he fits the bill. He is smaller than the typical Bison recruit, at 5'10" and 187 lbs. He is the second Bison recruit from Nipawain, joining Thomas Lenchyshyn, a LW/D.
Here's what the SJHL story says:
Carter Doerksen, the Hawks Captain for the past 2 years secured a commitment from the Universtiy of Manitoba and they are getting arguably the best leader the Hawks have ever seen. His bone crunching hits and selfless play will be tough to replace along with his whatever it takes to win attitude. Carter is leaving Nipawin with the Hawks all time games played in playoffs record.

Thomas Lenchyshyn will also be attending the University of Manitoba. "Lench" will take his abrasive on ice play along with his ability to make the highlight reel play with him to the U of M. A true competitor Thomas' community service and infectious smile will be missed within the community and locker room.
The Hawks are sending quite a few players to other teams in USports, plus one to the BCIHL and two to the NCAA:
- Brandan Arnold - to Mount Royal
- Brett Harasymuk - to UOIT
- Michael Grant - to Lethbridge
- Tyler Adams - to Regina
- Josh McDougall to Mercyhurst
- Logan Casavant - to Trinity Western
- Grant Baetsen - to Adrian College
That's a lot of grads to move in one season.
Links:
► [SJHL: Nipawin Hawks Commitments]
► [SJHL: Player Profile Story] : [Stats Page]
► [Carter Doerksen at Eliteprospects.com] : [at HockeyDB.com]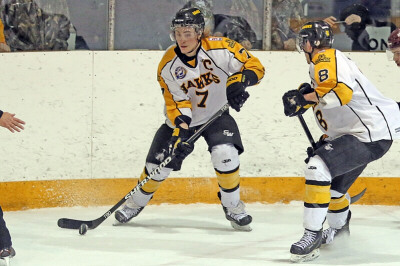 The Banjo Mutts became the last CW to release their exhibition schedule. Their games are:
Sep 14 Saskatchewan at Regina
Sep 15 Manitoba v Saskatchewan (in Regina)
Sep 22 Calgary at Saskatchewan
Sep 23 York at Saskatchewan
They will not leave the province of Saskatchewan. The few players who like toilet paper will have to wait for a road trip where they can stock up.
All teams have now released schedules, although some alterations will no doubt be made. Here's what I suspect:
- The Evil Monkeys have not announced anything for Sep 21-23, but they do appear on the ACAC schedule with a game against NAIT on Sep 23 in the Athabasca Tournament. I suspect they will add a game against MacEwan on Sep 21.
- The Bedrock Dinos claim they play the Bluegars on Sep 19, but the Bluegars say they are playing Minnesota State that same day. I find it odd that an NCAA team would be allowed to play that day. So my guess is that the MRU schedule will be altered so that the Minnesota State game goes to Oct 5 or 6.
- Manitoba's schedule does not list their opponents for the Regina tournament Sep 14-15. Since the Bisons face Sask on Sep 15, and since Regina plays Sask on Sep 14 and SAIT on Sep 15, my guess is that the Bisons will face the SAIT Condoms on Sep 14. Regina's trip to civilization will then consist of just the one game on Sep 22, due to the York tour.
- The York tour deserves a mention. It is not yet on their website. But from the CW teams we have this:
Sep 20 York v Regina (in Lumsden)
Sep 21 Calgary v York (in Humboldt)
Sep 23 York at Saskatchewan
Links:
► [Saskatchewan Schedule]
► [Saskatchewan Team Page]
► [York Schedule]